This morning, I have a mystery thriller in our book spotlight. Check out The Ticket, learn about the author and enter for a chance to win a prize in the book tour giveaway at the end of this post.

Publisher:
Black Opal Books
Many of our posts contain affiliate links.
Should you purchase an item via our links--we may receive slight compensation from an
affiliate partner.
The Ticket is the story of a frantic and perilous search for a missing lottery ticket worth $241 million. The lives of a corrupt gambler, a retired detective, and a woman in hiding intersect as the ticket is about to expire.
Channing Booker, a compulsive gambler, drug abuser, and philanderer whose marriage is failing, finally gets lucky and wins the Mega Millions lottery. Expecting an imminent divorce, and hoping to hide his new fortune from his wife Susan, Channing devises a scheme to have a friend claim the $241-million jackpot and secretly return the money to Channing after the divorce is final. But Susan flees with all of her possessions, including the rare book in which Channing hid the winning lottery ticket. With time running out before the lottery ticket expires, Channing launches a desperate search to find Susan, but she's covered her tracks well, fearing his retribution. In need of money to fund her furtive new lifestyle, Susan begins selling off her worldly goods, including her rare books, unleashing a chain of events that puts not only her life in danger, but that of her new love as well…
"Threaded within the plot twists are other stories of secondary characters, some hapless, some heroic, that in the end knit together to create a terrific, satisfying read." - Publisher's Weekly (Publishers Weekly, an independent organization, reviewed The Ticket in manuscript form prior to publication.)
"I know it is a reviewer's cliché, but The Ticket is a page turner. Once I began reading, I couldn't put it down until I learned the fate of 2, 6, 9, 17, 55, 12. Economists are not great forecasters, but I predict that readers of Shackelford's first novel will demand that he supply more titles in the future." Kenneth G. Elzinga: aka Marshall Jevons, author of the Henry Spearman mystery novels and Mystery Writers of America Edgar judge for the Best Mystery Novel of the Year
"The hunt for the lost lottery ticket is exciting, dangerous, and fun. Fred Shackelford juggles a cast of characters who are resourceful, driven, complex, potentially lethal, and always entertaining. The villain, Channing Booker - the name is a great pun -- is both amusing and frightening in his evil ways. The author works insights about the law into the quick moving plot, and he keeps readers tense about impending dangers. For fans of thrillers and of le-gal novels, Fred Shackelford artfully marries both genres in this superb début." John Jebb, author of True Crime: Virginia
"The Ticket takes you into the mind of a true sleazebag. Channing Booker wins a jackpot lottery ticket one day and loses it the next. This blunder sets off a captivating chase, keeping the reader guessing at every turn. Fred Shackelford, the author and a keen legal mind himself, weaves obstacles throughout, confronting his protagonist with colorful characters who thwart Channing's progress and confound his oily maneuvers. Channing is a jerk, no doubt; so why do we keep hoping he'll win? Maybe, we want a sequel! Beware! The cunning suspense herein will disrupt your sleep. A breathless read! Janet Martin, author of The Christmas Swap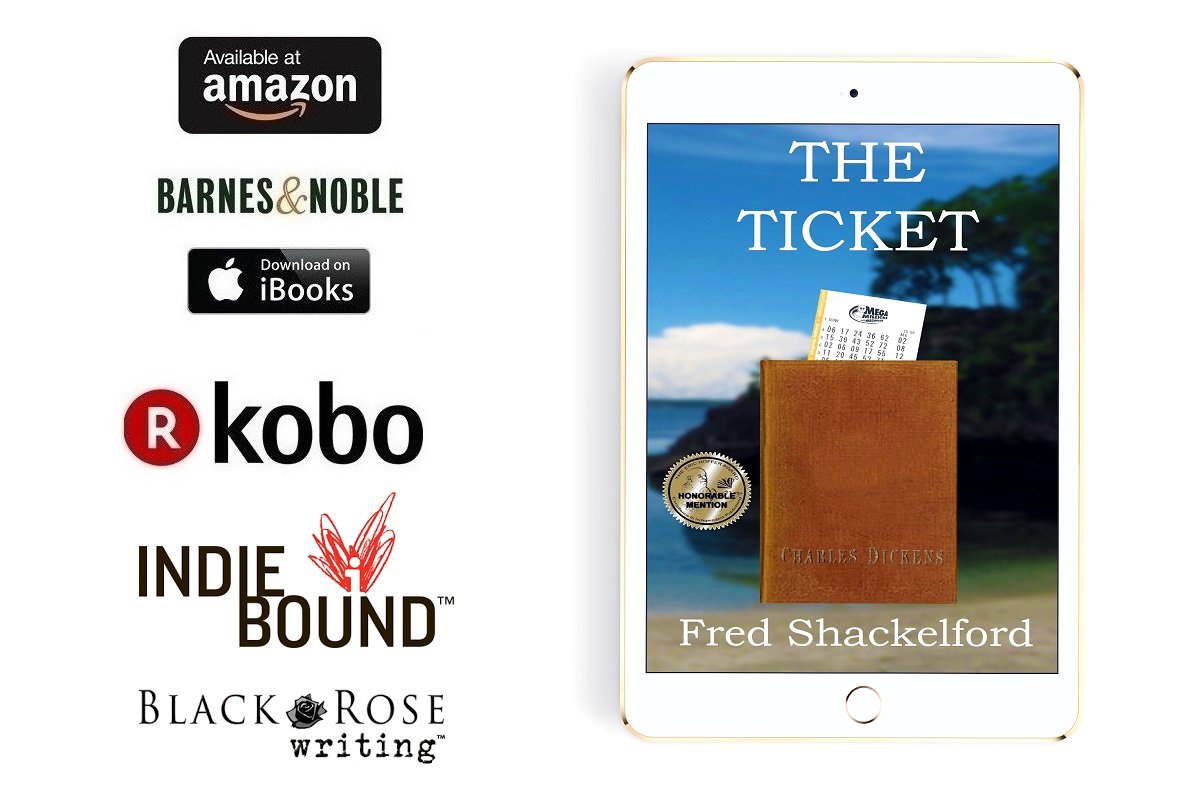 Channing Booker's hand trembled as he held the slip of paper. Bleary-eyed from a Friday night of drinking and revelry, he wasn't sure if what he saw was real. In the darkness of his study, he stared at the Virginia Lottery's website in the pale glow of a smartphone screen. Slowly he read the six winning Mega Millions numbers one more time. He had been playing the lottery for at least a decade but had little to show for it—until now.
Glancing back and forth between the winning numbers on his smartphone and a row of digits on the slip of paper, he confirmed that his ticket was a winner. Tonight's projected jackpot was $239 million, but with a flurry of last-minute ticket buying it may have inched up another million or so.
Knowing he had beaten odds of 303 million to one, Channing hoped his luck would hold when the final results were announced. Surely no one deserved a windfall more than he did, and he pondered the injustice that would befall him if someone else held a lucky ticket. His elation began to ebb as he considered the possibility that he might have to share his jackpot with another player. It ebbed even further as he realized that his new fortune, in whatever amount, would have to be divided between him and the woman who was sleeping upstairs.
Channing began to contemplate the radical changes that his sudden stroke of luck would bring. He was al-most certain that Susan's lawyer would be filing divorce papers soon, and until tonight he had dreaded the monetary implications of being single again. His few remaining assets would be snatched away by an irate wife, a greedy divorce lawyer, and a hostile judge. But they can only take what they can find.
He would wait until the divorce was final before cashing in the ticket, speeding the litigation along with magnanimous concessions and generous settlement offers. At least they would seem generous coming from a man whose apparent wealth had dwindled. Without children, there would be no protracted fight over custody or child support. He could wrap up the whole sorry process in a couple of months, grab his lottery winnings, reclaim his Mercedes, and retire with his favorite girlfriend to an is-land in the Caribbean.
As he leaned back on the couch, his pulse rate gradually returned to normal, and the shock of seeing the winning numbers on his ticket subsided. Minutes passed as he reveled in his vision of a carefree future. The house was silent, except for the gentle purr of Tony, the resident Siamese cat, who was curled up in a ball at the other end of the couch.
Unfazed by the silent drama that was unfolding before him, Tony watched placidly as his master stared at the ceiling. A sliver of moonlight peeked through the curtains and cast faint shadows around the room. Channing set the winning ticket on the small mahogany table at the end of the couch and gazed at it for several minutes.
His thoughts turned to the practical implications of his plan. He knew that when he cashed in the lottery ticket his win would be a matter of public record. Virginia's lottery rules required jackpot winners to appear at a press conference, shake hands with an official, and accept an oversized replica of a check. Although he had no expertise in family law, he suspected that Susan's lawyer could reopen the divorce case and seize much of his new for-tune. His precarious legal position called for a more sophisticated plan to preserve the money until it could be secretly deposited in an offshore bank account.
He assumed that he could count on help from one of his drinking buddies, Sully Pendleton. A local attorney who practiced out of a small office downtown, Sully was Channing's closest confidant. The two of them had collaborated on a commercial fraud case some years ago, and a friendship developed and grew over time. In addition to drinking and pursuing women, they shared an interest in professional football and often attended Carolina Panthers games together.
In fact, Channing was planning to leave with Sully the following Sunday morning to see the Panthers play the Falcons. On the way to the game he would ask Sully to safeguard the ticket until his divorce was final, and then wait a decent interval before cashing it in, as if Sully were the lucky winner. Sully could take a percentage off the top, plus enough to pay the taxes that would accrue, and then quietly wire the balance to an account that Channing would open at a bank in the Cayman Islands.
Channing hoped his friend would accept a share of eight to ten percent for his trouble, but if he wanted more, the additional expense would be worth it. A matter of this delicacy required the sensitivity and discretion that only Sully could bring to the task.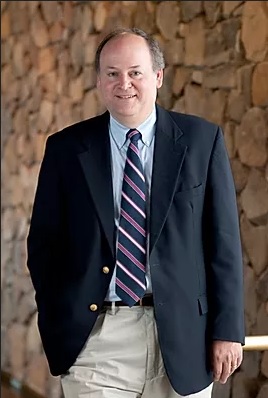 Fred Shackelford is a Virginia attorney who lives on farmland that his great-great-grandfather purchased in 1817. Before writing his début novel The Ticket, he published Judges Say the Darndest Things, a collection of humorous excerpts from legal opinions. Fred is a graduate of the University of Virginia. (Go Wahoos!). In addition to winning honorable mention for the Eric Hoffer Award, The Ticket was a finalist for the National Indie Excellence Awards, a finalist for both the Clue Award and the Mystery & Mayhem Award from Chanticleer Book Reviews, and a quarterfinalist in the Amazon Breakthrough Novel Award Contest.