This morning, I have a women's fiction novel to share! Check out Despite the Devil from the They Loved collection, read an excerpt, learn about author Shawna James and enter for a chance to win a prize in the book tour giveaway at the end of this post.

They Loved Collection Book 1
Women's Fiction
Date Published: 11-11-2020
Publisher: Drummond Martin Publishing
Many of our posts contain affiliate links.
Should you purchase an item via our links--we may receive slight compensation from an
affiliate partner.
To Stephanie, Andrew Simmons seemed like the perfect man. He was smart, handsome, kind, and athletic. And best of all, he was interested in her. As their romance begins to blossom, the truth about Andrew's past comes to light. A misguided choice made many years before, hung over him.
When they start a family together, Andrew tries to move on from the past and enjoy his family life, but the past still haunts him.
As Andrew and Stephanie build a stable and happy home life together, they long for the day they can stop looking over their shoulders. With resilience and perseverance, can they overcome the dark cloud together?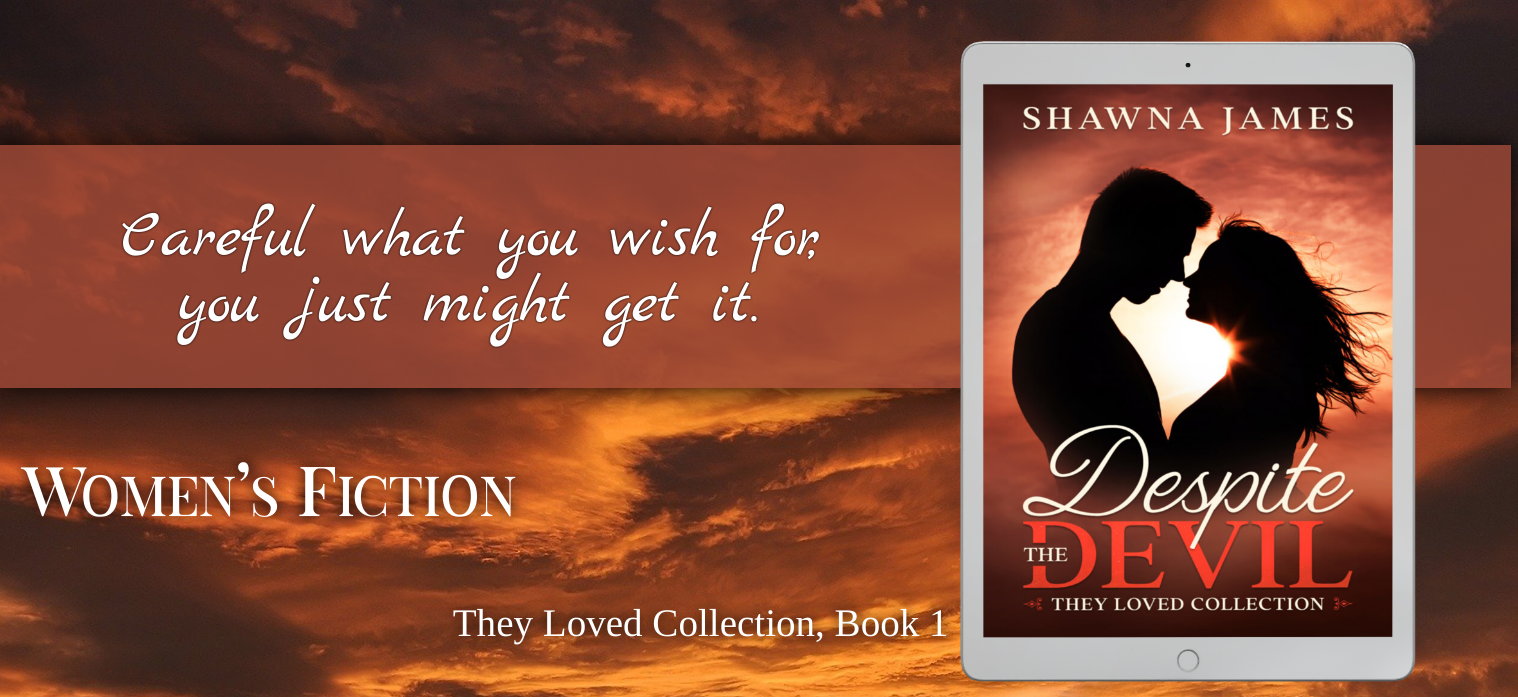 About the Author
When author Shawna James is not instructing at university or writing in her favorite coffee shop, Shawna spends most of her time reading, hiking, traveling abroad, and catching her favorite football games on Sunday afternoons.
Connect with the Author

Twitter: @Shawna_James_
Read an Excerpt
Despite the Devil by Shawna James
It was Monday, and Stephanie was supposed to go to the gym in the evening. By the time she walked out of the teachers' room with Maya, she still had a couple of hours to spare. Maya left and Stephanie was now alone. She tried to decide whether to go home or stay around. Just then she remembered that she had to make a poster for the new drama play she was planning for that year.
She spent the next half an hour designing the poster and getting it printed. Then, she went to the notice board to put it up. No such luck. The notice board was all filled and she didn't want to cover up any of the other posters. She scanned each one to see if there was anything that was past the event date so that she could ask the owner for permission to remove it.
While she was looking at the posters, she noticed Andrew's soccer poster and read it once more.
"Interested in joining the soccer team?" came a voice from behind her.
Startled, she spun around to see Andrew standing behind her, smiling and looking down at her.
"You scared me," she blurted out, placing a hand on her chest. Her heart was beating wildly.
"Oh, sorry," Andrew apologized. "I didn't mean to scare you." Andrew looked genuinely worried.
Stephanie smiled at him reassuringly. "No, no. It's alright," she said. "I'm just looking for a place to hang my poster. I can't decide which one to remove."
"You can remove mine," Andrew offered kindly.
"No, you don't have to do that." Stephanie blushed.
Andrew stepped forward, and before Stephanie could say anything else, he took down his poster. Then, he took Stephanie's poster from her hand and, despite her protest, posted it in the now empty slot on the noticeboard.
"Don't worry. I already selected my team and came here to take it down anyway."
Stephanie couldn't discern whether he was telling the truth or being sweet to please her. She was glad that her poster was now on the notice board though, occupying a prime spot that could grab lots of attention.
"You are too nice," Stephanie complimented him.
Andrew smiled and said nothing. He glanced at his watch.
"Am I keeping you?" Stephanie asked, glancing at her own watch.
"No. I have about an hour to spare and was wondering where I could get a good cup of coffee," Andrew explained.
"I know exactly the place!" Stephanie told him cheerily. She was encouraged by the fact that she hadn't said anything stupid to Andrew yet. "In fact, it's my friend Maya's find. It's on my way home; I could show you the spot. Have you met Maya?"
"I haven't met most of the teachers yet."
"You would have noticed her," Stephanie quipped drily. "She's bubbly and talkative, has short hair, and teaches math."
"Ah, yes, I think I have," Andrew chuckled. Even his laugh was enticing.
"Don't tell her I called her bubbly," Stephanie muttered in a low voice, glancing around them. Andrew cracked a smile and nodded. His eyes brimmed with humor and life. He had such a caring look and sense of gentleness about him. Stephanie tried to calm her stomach, which kept getting a swooping sensation every time she looked at Andrew.
They walked out of the school, and Stephanie directed him to the restaurant, the one Maya and she regularly visited.
"This place has the best coffee and cheesecake, approved by Maya," Stephanie said by way of introduction. "Maya may be a math teacher, but her real expertise is food."
"Approved by the expert. Got it," Andrew replied charmingly.
Stephanie glanced at her watch again. She also had another hour to spare. Out of the corner of her eye, she saw Andrew studying her.
"Why don't you join me for a cup of coffee?" he invited. "Maybe you could lend me more expertise on food-related matters."
Stephanie could feel her heart skip a beat and her face flushed with excitement. She searched for words to politely refuse this invitation, but truthfully, she wanted nothing more than to spend time inside the restaurant with him. "I'm not the expert," she argued lamely. "It's my friend Maya who's the foody, but I will join you for that cup of coffee."
"Consider this an apology for bumping into you the other day," Andrew added and held the door open for Stephanie to enter.
Stephanie stepped inside, her mind screaming 'be cool, be cool … don't show how much you like him'.
Buy the Book


Enter the Giveaway

a Rafflecopter giveaway