Today, I have a mystery in our book spotlight! Check out Dark Ride Deception from the Nostalgia City Mystery series, learn about author Mark S. Bacon, read an excerpt and be sure to enter for a chance to win a prize in the book tour giveaway at the end of this post.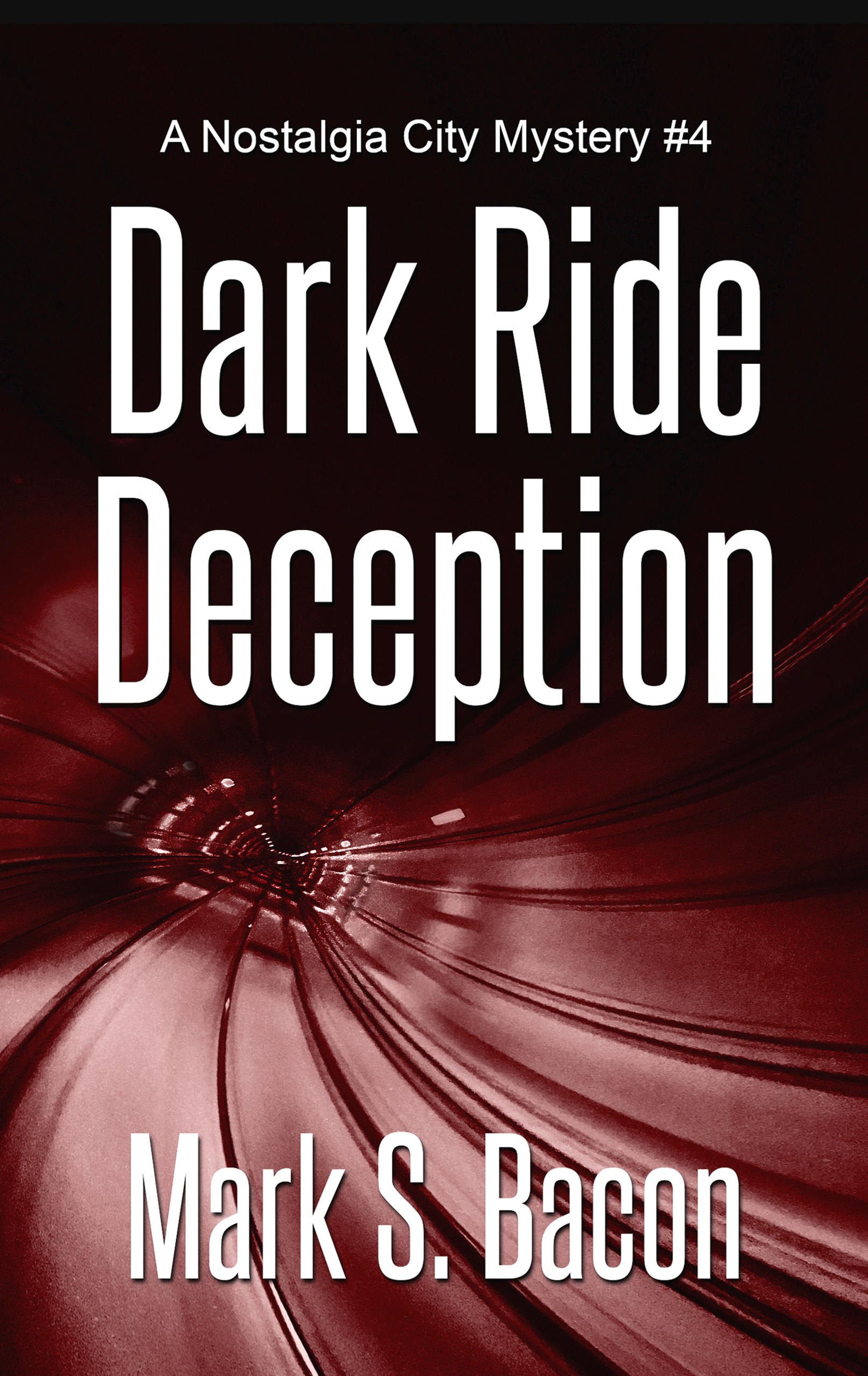 A Nostalgia City Mystery, #4
Mystery
Date Published: 09-30-2021
Publisher: Archer and Clark Publishing
Many of our posts contain affiliate links.
Should you purchase an item via our links--we may receive slight compensation from an
affiliate partner.
Computer genius Tom Wyrick has invented mind-bending technology that will make theme park rides challenge passengers' senses, their grasp of the material world. His Perception Deception Effect will rocket Arizona's Nostalgia City theme park decades ahead of the competition. But the secret technology is missing. And so is its creator. Is he dead? On the run?
An FBI agent theorizes the People's Republic of China is responsible for the disappearance. The Nostalgia City CEO, however, is convinced a rival theme park is behind the theft. He drafts ex-cop turned theme park cab driver Lyle Deming to fly to Florida to find the missing computer scientist and recover his secrets.
Does this have anything to do with the severed human finger Lyle finds in his cab?
Back at Nostalgia City, a sprawling re-creation of an entire small town from the 1970s, a movie company is shooting a Vietnam era crime story. It's a welcome distraction from the tech theft until the film company announces its last-minute replacement star is Cory "Psycho" Sievers, fresh out of rehab and aching to exact revenge on Hollywood. When another actor is found dead, park executive Kate Sorensen, a 6' 2 ½" former college basketball star, is persuaded to investigate.
Shrugging off jet lag and chronic anxiety, Lyle goes undercover using a parade of false identities—from attorney to maintenance worker—to snoop behind the scenes at other theme parks. Although he's generally tech savvy, he's flummoxed by Perception Deception science. He gets help from a Nostalgia City engineer who speaks the jargon, but Lyle must rein in his assistant's enthusiasm for corporate espionage.
In the meantime, Kate confronts the mentally unstable actor. But she may be forced to give up the murder case—Lyle's in trouble. Kate and Lyle have little time to explore their relationship as both their investigations turn deadly, threatening them and the future of Nostalgia City.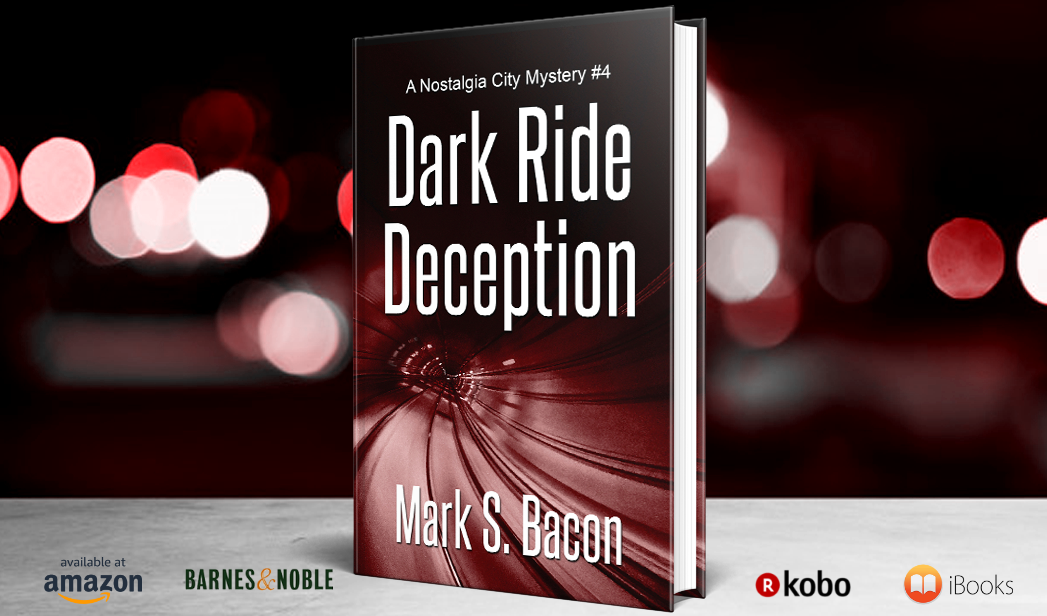 Read an Excerpt

Dark Ride Deception – Chapt. 34
Lyle felt like he was back in an interrogation room at the Phoenix PD only he was on the wrong side of the table. He sat in front of Galvan's desk and eyed the beefy guy with a crew cut who was not introduced. You sat next to Lyle
"So as you now know, I work at—or maybe I used to work—at Nostalgia City. In any event, I'm a cab driver."
Galvan chuckled.
"I can show you my ID and commercial license."
"This is not the time for your name, rank, and serial number," Yoo said. "Tell us what you were doing here."
Yoo still prodded, Galvan had large dark eyes, and the crew cut looked at him like he was a suspect in a one-man lineup. "Okay, I'm just looking for a Nostalgia City employee. What's the harm?"
"And you thought he might be working here?" Galvan said.
"Possibly."
"And what does he do at Nostalgia City?"
"I'm not sure."
"I believe Tom Wyrick is a programmer for you," Galvan said, her voice light and conversational as if she were asking if he enjoyed his flight to Florida.
Hell, how do they know he was a programmer? Amber, the receptionist. My mistake. She was the only one I told who Wyrick was. But how did they know I talked to her? I never mentioned her name to anyone. Surveillance cameras. They went back and looked at video of the time before I showed up in HR. Damn these guys are good. Least I know what they know about me, which is pretty much everything.
"Wyrick is a programmer and he disappeared. The park is worried about him so they asked me to look around."
"And you were chosen, not because you drive a cab, but because of your previous occupation."
"Yeah," he said. "I was a sergeant. Phoenix police, homicide." Did the crew cut's gargoyle expression soften slightly?
"Actually, Mr. Deming," Galvan said, "the only thing we don't know for sure is what Wyrick was working on when he disappeared. But I can guess. There've been stories. And you were asking around in our attractions development building next door."
This lady has a complete picture of my actions and motives. As complete as I would have liked for any perp I detained as a cop. He gave a shrug of surrender and leaned back in his chair.
Galvan turned to the thickset guy next to her. "Thanks for coming over Bill. It's like we thought. I just have a few more questions for our cab driver. I'll give you a call later."
Bill got up slowly, pushed his chair out of the way, and came around the desk. He looked at Yoo and made a slight motion to the door. When they left, Galvan got up and took Yoo's seat opposite Lyle.
"Are you working for Maxwell? Hiring an ex-police detective sounds like something he'd do."
Lyle couldn't read Galvan's body language. She sat back in the chair, put a hand on the arm, and crossed her legs. Relaxed maybe, but her brown-eyed stare held his attention.
"Yes and no. I am working for Max, but he didn't hire me. I went to work at the park because it was a break from police work. It takes it out of you. I like driving my taxi."
"You're not driving it now."
"I sometimes do special assignments for Max."
"So one of your programmers has gone rogue and you want to find him before he sells your secrets."
Lyle could play the game, too. His noncommittal expression was as good as anyone's.
"Does it have to do with your perception deception effect?"
Why don't I just call Joseph Arena and have him explain the technical details to you?
"You don't have to worry. That term was in one of the trade mags recently. No one knows what it means." She shifted in her chair and leaned forward. "I sympathize with you. We all want the latest and the best, and we all try to protect our own proprietary ideas."
"Which is why Yoo followed me."
"That's right," she said. "I'm sorry if he got too rough. He's young. It didn't sound like you were looking to steal anything. I despise anyone who would steal secrets for profit. Your secrets, our secrets, anyone's. Our engineering team is inspired, and like Edison said, it's ninety-nine percent perspiration. Is this Wyrick going to sell your secrets to the highest bidder or what?"
"Could be."
"Well, I would not buy stolen technology. I can't say for certain that Mr. Danneman wouldn't be interested, but if anyone wanted to sell us new tech, it would have to come through me. And it hasn't."
Lyle was beginning to like Tracy Galvan. Intelligent, attractive. These Atlantic Adventures folks were sharp, straightforward people. Except Amber.
"I know that Maxwell and Mr. Danneman have butted heads—maybe that's putting it mildly," she said. "'No love lost' is the expression. Is that why you're here instead of Sea World or the Magic Kingdom?"
Lyle nodded. She knew it all. "I don't think there's anything else I could tell you that you don't already know, except how perception deception works. And I don't have a clue. I really do drive a cab."
She smiled.
"I appreciate your frankness," Lyle said. She was telling the truth. "I could have saved a lot of time by just talking to you first."
"So where are you going to look next?"
"Does this mean…"
"No, we're not going to press charges. This is just our little secret. I enjoyed seeing what you did, even at our expense. Very inventive. Should keep security on their toes."
"Glad I could provide some entertainment."
Buy the Book
Meet the Author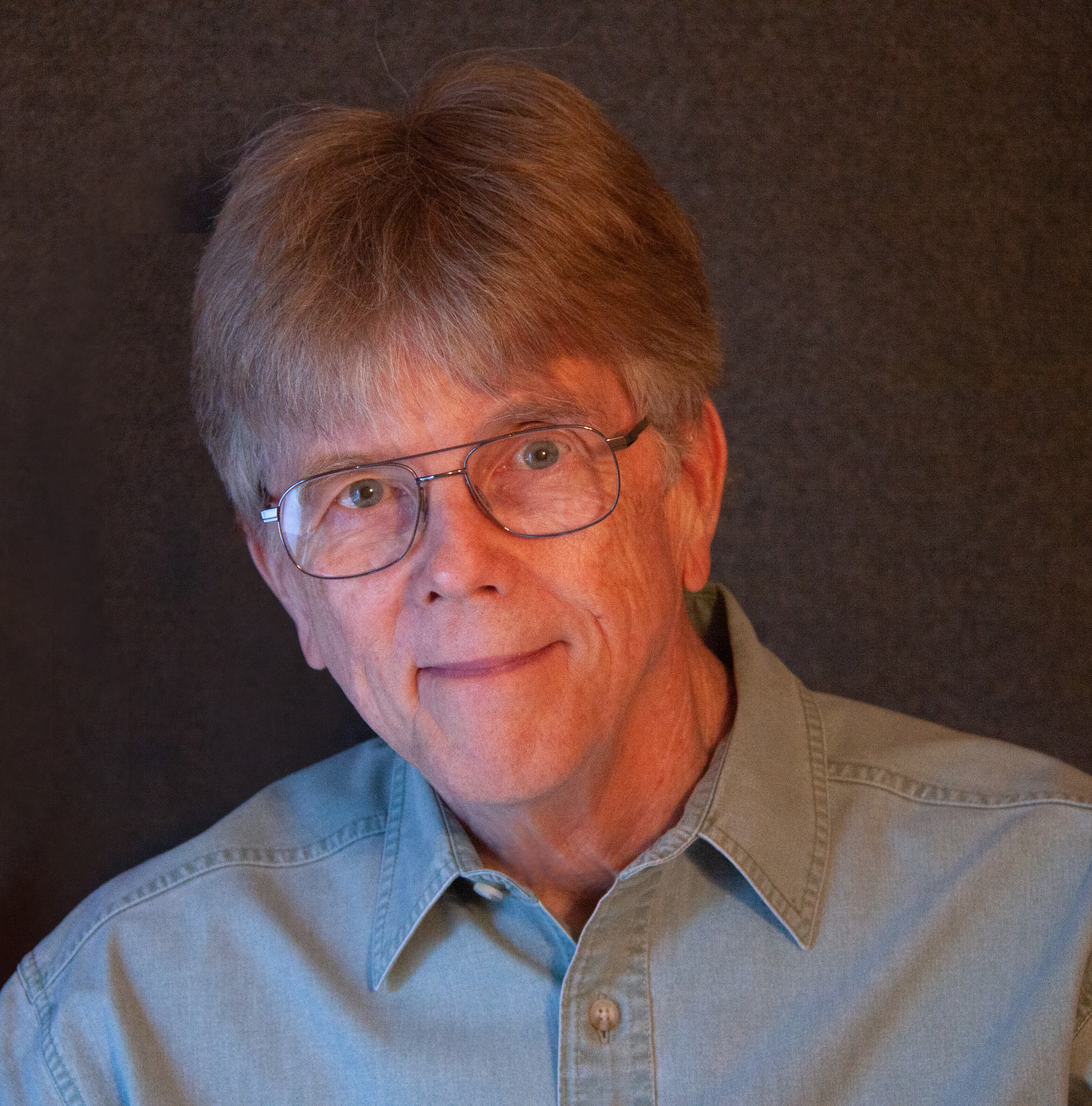 Mark S. Bacon began his career as a Southern California newspaper police reporter, one of his crime stories becoming key evidence in a murder case that spanned decades.
He is the author of the Nostalgia City mystery series that began with Death in Nostalgia City. The first book introduced ex-cop turned cab driver Lyle Deming and PR executive Kate Sorensen, a 6'2½" former college basketball star. Death in Nostalgia City was recommended for book clubs by the American Library Association. His second mystery, Desert Kill Switch, earned the top fiction award in the 2018 Great Southwest Book Festival and was a Top Shelf Magazine Indie Award nominee.
After working for two newspapers, Bacon moved to advertising and marketing. He wrote nonfiction business books including Do-It-Yourself Direct Marketing, printed in four languages and three editions and named best business book of the year by the Library Journal. His articles have appeared in the Washington Post, Cleveland Plain Dealer, San Antonio Express News, Orange County (Calif.) Register, Denver Post, and many other publications. Most recently he was a correspondent for the San Francisco Chronicle.
He earned an MA in mass media from UNLV and a BA in journalism from Fresno State. He gets many of his ideas when he's walking his dog.
Connect with the Author

Enter the Giveaway