Today, I have a holiday romance anthology in our book release blitz spotlight! Check out the romance stories included in the anthology and learn about the authors!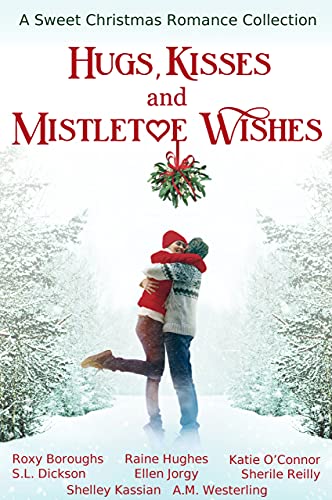 Holiday Romance, Holiday Fiction, Romance Anthologies, Christmas Love Stories
Release Date: November 2, 2021
Publisher: Snarky Heart Press
Many of our posts contain affiliate links.
Should you purchase an item via our links--we may receive slight compensation from an
affiliate partner.
Hugs, Kisses and Mistletoe Wishes ... a Sweet Christmas Romance Collection. Celebrate the magical holiday season with this special gift straight from our hearts, eight enchanting love stories to cherish all year long. Rekindle your love of the holidays with these heartwarming romances.
Only available for a limited time. Get your copy today.
Check out the titles below:
Roxy Boroughs: THE SPRITE BEFORE CHRISTMAS
A wisecracking Christmas sprite takes a heartbroken woman on a magical journey to discover the true meaning of love and family, but only if she has the courage to act before it's too late.
S. L. Dickson: MY CHRISTMAS HERO
When a firefighter finds and returns a Christmas sock monkey to its rightful owner, he finds a woman with a zest for life. While the romance sparks, a tragedy occurs. Will they get a second chance? Will a kiss under the Mistletoe fulfill their dreams?
Raine Hughes: LOVE IN TIME FOR CHRISTMAS
Ready to move into their newly purchased home, Jamison Baker and his two young girls discover the previous owner and her female boarders haven't vacated. Until new accommodations can be found for the women their only option is to share the renamed house, Baker's Harem...er, Haven. Jamison can't imagine how he'll live with thirteen females, especially the feisty Kat Madison.
Ellen Jorgy: SAFE IN HIS ARMS AT CHRISTMAS
Mix one scared city girl with one guilt-ridden country boy doctor and you get a recipe for love at Christmas, but hidden agendas emerge that could crush not only their hopes of love but might end Nicole's life as well.
Shelley Kassian: A GENTLEMAN FOR CHRISTMAS
In this Downton Abbey meets Highlander romance, a veterinary surgeon pursues a high society lady at the height of the Christmas season. Differing cultures and a high-class father complicate the romance. Will a carol's song and a horse's Lady Luck make the season brighter?
Katie O'Connor: GINGERBREAD DREAMS
Poppy Holiday needs a new oven for her bakery. Darius Badeaux has a reputation to shed. The only way they can both achieve their dreams is by winning the Annual Gingerbread Baking Competition. Together. Too bad there's a hurtful past hanging between them. Will the season of giving bring them together to build the perfect gingerbread house and salvage their careers, or will the past crush their dreams and their hearts?
Sherile Reilly: A WISH UPON A CHRISTMAS KNIGHT
Orphaned, Melody Blackwell, lives under the control of her selfish uncle who betroths her, for financial gain, to a cruel old man. Cursed for centuries, Samuel Knight is brought to life by the fair Melody. Together, they must fight an ancient curse that threatens to destroy their love and then kill them. Can they survive?
A. M. Westerling: EVEYLN'S BEAU
After a disappointing Season, Lady Evelyn Kendall retreats to Kendall Hall in Cornwall. Her immediate future does not include a husband, although a renewed acquaintance with long-time family friend Oliver Harrington shows promise. When a local vicar offers her an opportunity to organize a Christmas pageant for disadvantaged children, Evelyn accepts, never thinking it would lead to disaster for both her and Oliver.
About the Authors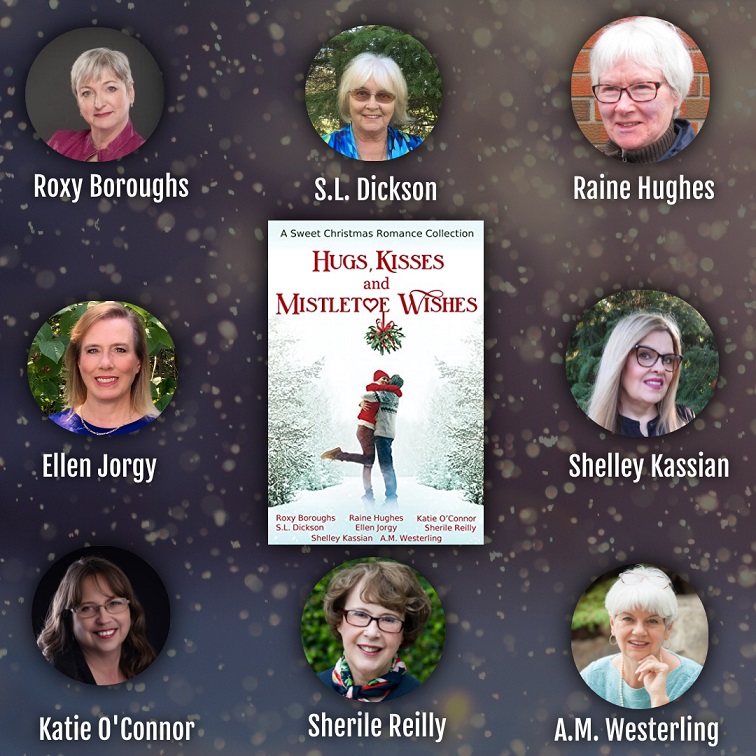 Eight Alberta romance writers have combined their talents to publish this blockbuster eight-novel collection under the single title: Hugs, Kisses and Mistletoe Wishes. You may also seek out other romance novels published by the eight individual writers represented in this holiday collection: Roxy Boroughs, S. L. Dickson, Raine Hughes, Ellen Jorgy, Shelley Kassian, Katie O'Connor, Sherile Reilly and A. M. Westerling.
Connect with the Authors
https://amwesterling.com/index.html