Today, I have a children's book to share with readers! Check out Sushi's Journey Home and learn about author Teresa Bertke!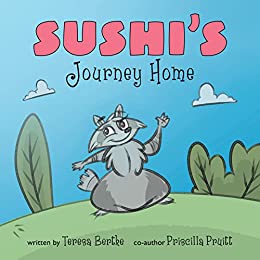 Children's Book
Date Published:
January 23, 2022
Many of our posts contain affiliate links.
Should you purchase an item via our links--we may receive slight compensation from an
affiliate partner.
Follow little Sushi on her courageous journey in an attempt to find a forever family. This mischievous baby raccoon is very unique in her own way. This story is full outdoor adventure, mishaps, and most of all love. Will there be an adoption in Sushi's future?...
About the Author
Teresa has a passion for teaching others the importance of caring for injured and orphaned animals which ultimately led her to become a licensed Wildlife Rehabilitator. Teresa is a Fire Fighter-Paramedic and lives in Southern Michigan with her husband Don. She has two grown Sons and seven grandchildren. This book is being dedicated to: Oakley, Deegan, Braeleigh, Gunner, Jaxsen, Skylar and Maverick.