Today, I have a sci fi novel in our book spotlight! Check out Hammerhead, learn about author Wesley Britton, read an excerpt from the book and enter for a chance to win a prize in the book tour giveaway at the end of this post.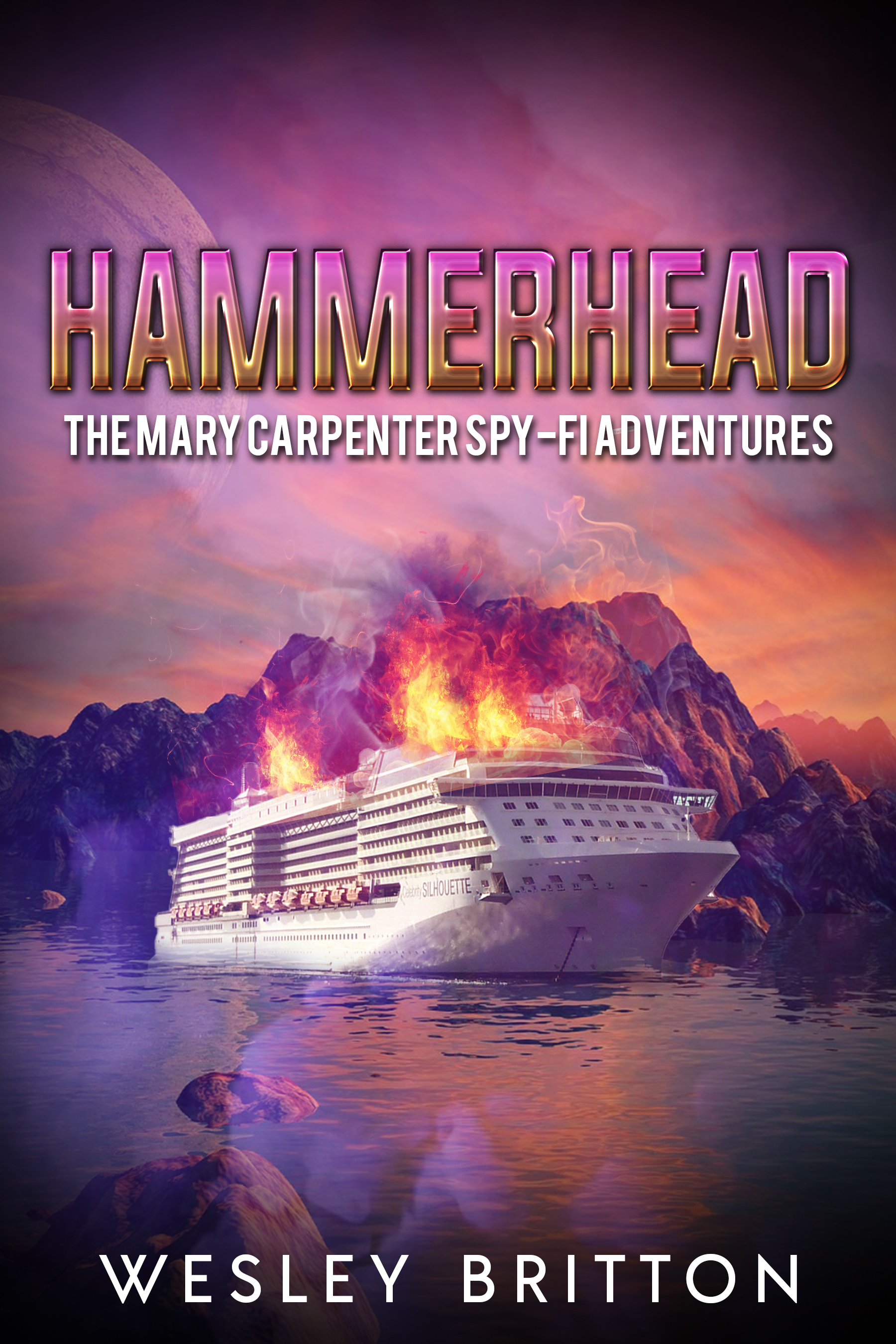 Sci-Fi
Date Published: 03-06-2023
Publisher: Alien Vision
Many of our posts contain affiliate links.
Should you purchase an item via our links--we may receive slight compensation from an
affiliate partner.
20 years in the future, humanity has been decimated by climate change and waves of fatal plagues released by Islamic terrorists.
In this new world, Special Operative Mary Carpenter of the Commonwealth of Independent States takes on deadly opponents, including white supremacists, cells of the Everlasting Caliphate, and an international organization of smugglers called Hammerhead plotting to dominate the planet with an all-powerful fear gas.
Join Mary Carpenter in four fast-paced, futuristic adventures that might be in tomorrow's headlines-
Read an Excerpt

Short Excerpt from Story 1
The Fates of Evil Men
No surprise, that. If I were an innocent civilian hearing that blast, I'd be heading away from the scene ASAP myself. Well, it's true I am heading away as fast as I can. But for different reasons.
In fact, if any witnesses ever connected the tall, auburn-haired beauty to the explosion on Wolf Street, Mary had nothing to worry about. She was a high-ranking officer in the DIPU, and her supervisors knew where she had been and what she had been doing. Like her, they'd be very disappointed her mission had turned into a total bust, resulting in the death of a very helpful and irreplaceable contact.
But only Mary would be mourning him as a fellow human being. Mourning him and the terrifying images of his death she would never forget.
Mary walked through the hotel's front lobby, pushing a small button on her wrist-Zoomer, the latest device everyone now used as a communicator, mini-computer, timepiece, and in the case of law enforcement officers, a tiny repository of useful weaponry. She still wore her face-mask and gloves although she had returned her nose-plugs to her pouch. If anyone saw her walking by in the mask and gloves, these items wouldn't seem all that out of place. Not anymore.
Her mind still full of the ghastly images of Mustafa's final moments, Mary walked past the front desk, past the hotel's bar, and through the building's back doors. In the small parking lot, a simple Yellow air-Cab slowly floated down in front of her. She smiled. The signal she had sent by pressing her Zoomer had resulted in quick work from one of her team members.
She slid into the cab's back seat and looked up at the driver. "Hi, Chuck. Downtown. Headquarters. Commerce Street." Realizing she was being a bit redundant, she smiled awkwardly and added, "You might want to avoid Maple for a few blocks. I suspect it will shortly be filled with our units."
"After that explosion across the street," Chuck replied, flying the cab in the opposite direction, "we'll be very busy very soon. What happened?"
"Wish I knew," Mary answered, knowing her face must looked strained and haunted. "My contact is dead. By the skin-splitting Damascus plague. At least, that's what it looked like. He was dead before the explosion. It nearly got me, the explosion that is."
Chuck whistled. "Yep, the Colonel is going to be very busy."
"As are we."
* * * *
Lieutenant Mary Carpenter stepped out of Chuck's cab in the basement garage of police headquarters on Commerce Street. A tingle ran up Mary's spine when she realized she was standing on the exact spot where, seventy-five years before, a nightclub owner had gunned down an enigmatic sniper in front of a crowd of surprised witnesses. While no one had called him Lee Harvey Oswald before that November day, the victim would forever be Lee Harvey Oswald in all the history books thereafter.
Mary rode the elevator up to her sixth-floor office where she dictated her report of the events on Wolf Street. She smiled thinly when she realized the time it took to dictate her report was pretty close to the amount of time the events actually took place.
Walking into Colonel Buell's office down the hall, she realized the time it took for him to read her report was also close to the amount of time it took to write it and the time it took to experience the horror of the Damascus virus death and the explosive aftermath.
Colonel Buell looked up at Mary's face, one eyebrow raised high on his forehead as he studied his officer's expression. Not for the first time, Mary thought her boss with his stylishly-cropped curly brown hair, impish twinkles in his 59-year-old eyes, and his welcoming, avuncular face didn't really look like it belonged to a hard-boiled war veteran now in charge of a major metropolitan police department in the days when the Texas Independent Armed Forces and most local police departments had more or less merged.
Mary's own rank of lieutenant was a military title she had earned on the battlefields of Fort Worth and Oak Cliff during the Texas Independence war.
Mary was always grateful that Colonel Ian Buell was one of the few men she knew well who hadn't objectified her during their professional relationship.
She wondered if that was due to his age, perhaps the fact he was desk-bound and had to ride in his robotic wheelchair, or he was simply a decent man with many strong morals and values.
"Pretty horrible," he observed sympathetically, clearly referring to Mary's newest report. Getting straight to business, he asked, "By chance, did you happen to see anyone leaving the store or hanging around the area as you walked up Wolf Street?"
"Other than the customer I described in my report, no one at all." Mary shook her head. "That's not exactly unusual, this time of day. As you know, that was one reason we chose this hour to do the hand-over that never happened."
Buell looked at his desk-Zoomer and turned the screen around so Mary could see it. "Is that the woman you saw in the shop?"
While Mary had mainly seen the customer's back, the hair and blouse she saw on the screen were identical to the frightened woman who had rushed out the door in front of her.
Sobbing and nearly hysterical, the grandmotherly, gray-headed woman was sitting in a Maple Point booth. Mary had no doubt two officers sat in the booth across from her, interrogating the witness for anything she might have seen. Or done.
"That's her. I guess she ran into the Maple Point as it was the closest place to find people to talk to."
"Not many people stuck around to be talked to much," Buell grunted. "Soon as she started talking about a skin-splitter in the building behind the bar, people wanted to beat as much distance from the place as possible. I doubt my officers want to spend more than required time on that corner as well."
"We can hope that the explosion burned up any bits of the virus in Mustafa's body and perhaps where it was he picked it up."
"We can hope. Can't be too careful when the Damascus plague is involved. I just sent a note to the medical authorities. Between your report and that witness's testimony, we just had our first fatality from that particular virus in maybe five years here in Dallas."
The Colonel sat back and looked closely at Mary. "I know it's premature to start making many plans, but clearly your present assignment is now sadly over.
Considering the deadly attack in the Oak Lawn area today where you were, I think it best we presume your cover has been blown and your identity known to, well, it will take a while to find out what the devil happened down there."
"You know I'm going to want to be involved in finding out who killed Mustafa," Mary insisted.
Buell looked doubtful. "Unless I miss my guess, this investigation will quickly go in more than one direction. At least one will look at just how Mustafa was infected with the Damascus virus. It could have been a coincidence it hit him today, but I doubt it."
"Speaking of coincidences, I suspect that explosion was created by someone other than any Islamists who might have wanted to punish a traitor to their cause. More likely some Texas nationalist wanted to purge Dallas of Muslim businesses. It might have just been coincidence they struck more or less at the same time as the plague attack."
"Perhaps so," Buell replied agreeably. "What I'd like to know is, if some homegrown outfit blew up the store, is whether or not you were part of their targeting. That's the direction I'd like you to explore. Let other members of your unit try to find new contacts in the local underground Mosques."
"As always, that's the toughest nut to try to crack. Lining up Mustafa, I must admit, was one of my luckiest finds."
"Luck and a lot of leg work, as I recall," Buell beamed. "And now that's very dangerous turf for a conspicuously non-Muslim to try to penetrate again. So consider yourself assigned to explore any possible connections with non-Islamic actors in this affair."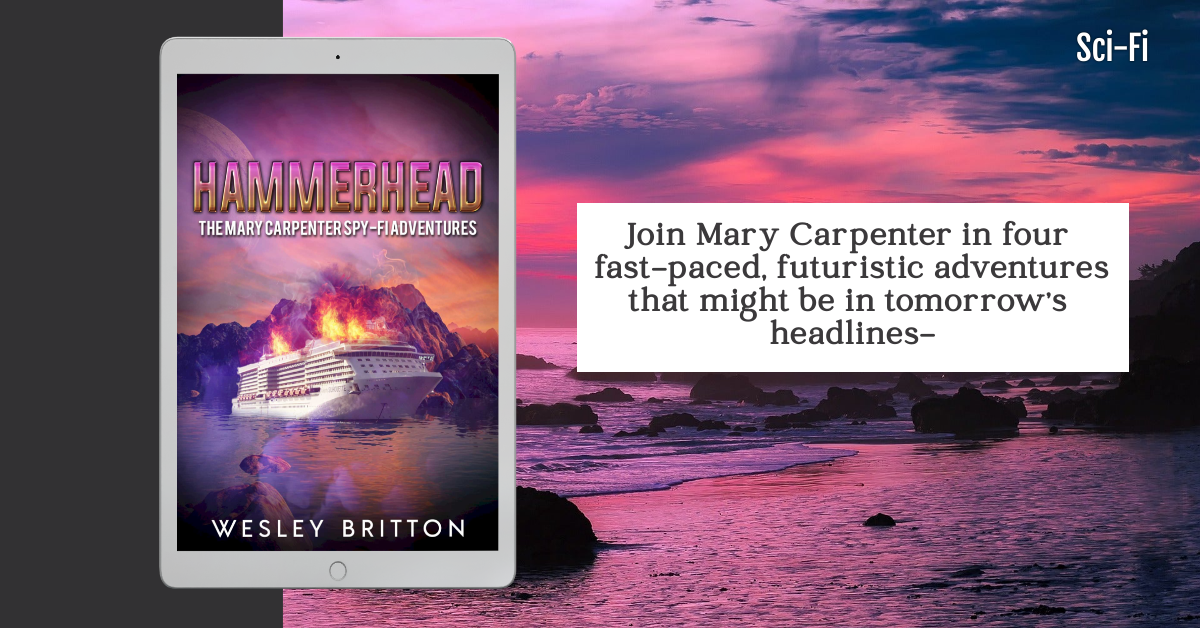 About the Author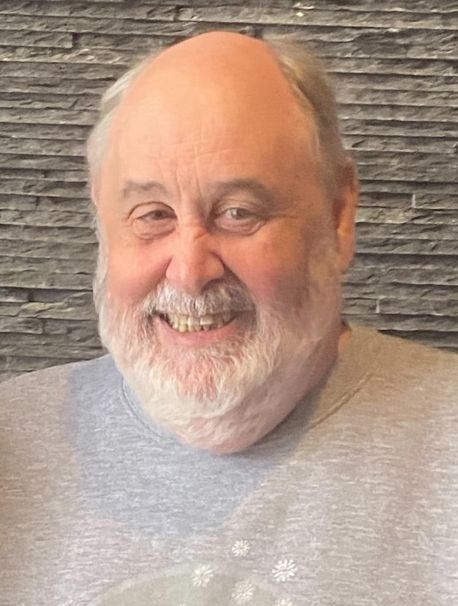 Dr. Wesley Britton is the author of four non-fiction books, Spy Television (2003), Beyond Bond: Spies in Fiction and Film (2005), Onscreen and Undercover: The Ultimate Book of Movie Espionage (2006), and The Encyclopedia of TV Spies (2009).
Starting in fall 2015, his science fiction/ mystery/ espionage series, The Beta-Earth Chronicles debuted with the ground-breaking The Blind Alien. Throughout 2016 to 2019, eight sequels followed including Return to Alpha, Wesley's first stand alone novel. Alpha Tales 2044 was the first of three collections of Beta-Earth short stories.
Britton earned his doctorate in American Literature at the University of North Texas in 1990. From 2007 to 2015, he was co-host of online radio's "Dave White Presents" broadcast over KSAV.org. For DWP, Wesley contributed interviews with authors, musicians, actors, and many entertainment insiders. In 2022, Wes picked up from where he left off with his own "Flashback, another interview show broadcast over KSAV.org and now also archived at his Remember When podcast page.
Wesley taught English at Harrisburg Area Community College until his retirement in 2016. Wes is blind due to the progressive genetic disease, retiniteous pigmentosa. Wesley served on the Board of Directors for Vision Resources of Central Pennsylvania for 14 years. He has been writing book reviews for sites like BlogCritics.org and BookPleasures.com for nearly 30 years. Wes and Grace and their menagerie live in Harrisburg, PA.
Connect with the Author

Buy the Book
Enter the Giveaway
a Rafflecopter giveaway