Today, I have a motorcycle club romance in our book spotlight! Check out Rage and learn about author Marteeka Karland!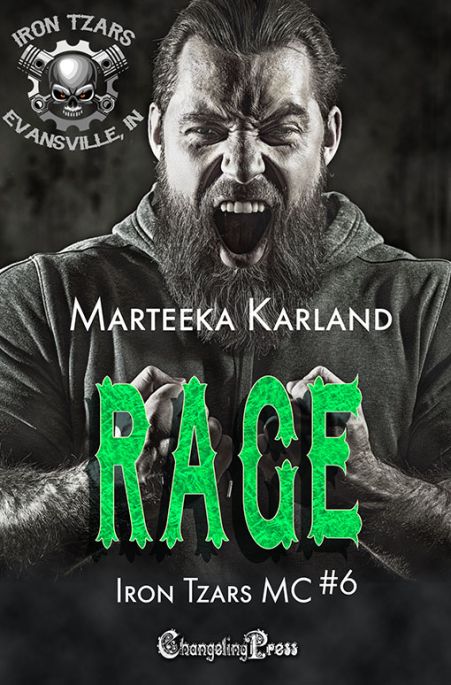 A Bones MC Romance
(Iron Tzars MC 6)
Romantic Suspense / Motorcycle Club Romance / Age Gap
Date Published: July 14, 2023
Many of our posts contain affiliate links.
Should you purchase an item via our links--we may receive slight compensation from an
affiliate partner.
Pepper -- I'm in so much trouble. Though I've been with Dustin since I was sixteen, he's not the man I thought he was. In fact, he's turned into my worst nightmare. Afraid for the life of my daughter, I run to the only man I trusted with my daughter's protection. Rage. He's Dustin's half-brother and the scariest man I know. He's been on the outer edges of my life for four years, always there bailing Dustin out of one mess or another. Also, he hates me.
Rage -- Calm, cool, and collected ain't my forte. Especially when there's danger to someone I care about. So when I find out my brother has threatened his girlfriend and their newborn daughter, you'd think I'd be torn between believing the accusations and defending my brother. Truth is, I'd believe Pepper over Dustin any day of the week. She's the reason I stuck around after Dustin and his mother got back on their feet after my dad died. From the moment I saw Pepper, I knew she was mine. Good things are worth waiting for, sure, but I'm done waiting. Especially when she drops the baby off in my car and intends on sacrificing herself to save Dustin's sorry hide. Not on my watch.
WARNING: Graphic violence, adult situations, and references to human trafficking and domestic abuse that may be triggers for some readers. Features a grumpy hero and a feisty heroine. Eventual happy ending and NO cheating, as always.
About the Author
Erotic romance author by night, emergency room tech/clerk by day, Marteeka Karland works really hard to drive everyone in her life completely and totally nuts. She has been creating stories from her warped imagination since she was in the third grade. Her love of writing blossomed throughout her teenage years until it developed into the totally unorthodox and irreverent style her English teachers tried so hard to rid her of.
Author's Instagram and Twitter: @MarteekaKarland
Publisher on Facebook, Twitter & Instagram: @changelingpress
Buy the Book